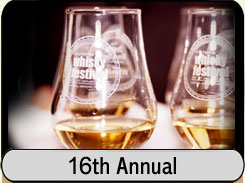 Ticket Sales
Out of town attendees:
Ticket sales will commence Friday, January 8th, 2021 at 10am Pacific Standard Time; please telephone the Hotel Reservation line at 1-800-663-7550 to purchase tickets in conjunction with a hotel room reservation.
In town attendees:
Ticket sales will be made online at strathliquor.com commencing Saturday, January 9th, 2021 at 9:00am Pacific Standard Time. This change is being made to remove the usual overnight lineups. Ticket pickup to be arranged by appointment with the Strath Liquor store.
until the Victoria Whisky Festival
The 16th Annual Victoria Whisky Festival will be held on the
14th, 15th, 16th, and 17th of January 2021 at the Hotel Grand Pacific.
October 19th, 2020
The Victoria Whisky Festival 2021 is scheduled to run from January 14th through January 17th, 2021 at the Hotel Grand Pacific. Due to the CoVid-19 pandemic and the restrictions that have evolved over the last number of months, the 2021 Festival has been reconfigured significantly. The Festival will hold a limited number of Masterclasses & Grand Tastings per day and where required presenters will conduct their events remotely. The VIP and Consumer Tastings will not be held at the 2021 Festival. Please read carefully the CoVid-19 protocols listed below that have been adopted to ensure the health & safety of ticket holders, presenters, hotel staff and volunteers.
All events will take place in the Vancouver Island & Pender Island Ballrooms and ticket numbers will be strictly limited per event to ensure strict physical distancing. Both ballrooms will have their own dedicated entrances, exits & washrooms, and event start & end times will be staggered.
Tickets will be sold at the Strath online and from the Hotel Grand Pacific by telephone. As this is a very fluid situation please check our website for updates as we move through the remainder of 2020. The Festival will be enforcing all provincial health regulations.
Refunds
If the Festival is cancelled due to Public Health Order ticket holders will be offered the choice of one of the following;
60% refund (of ticket face value)
100% donation to the Festival
100% credit applicable to the next Victoria Whisky Festival (anticipated to be in 2022)
Refunds will not be issued to those who fail to comply with Public Health Orders and who are asked to leave the Festival.
Regards,
The Victoria Whisky Festival Team.
CoVid-19 Protocols:
Participant Responsibilities & Obligations
It is a condition of participation that attendees help ensure that they and their fellow participants are safe and conduct themselves in a responsible manner.
Do not participate in the Festival:
If you are sick or required to self-isolate.
Have any of the following symptoms: Fever, Chills, New or Worsening Cough, Shortness of Breath or a Sore Throat.
If you have traveled outside of Canada in the 14 days prior to your 2021 Victoria Whisky Festival event
All participants, please wash your hands or clean them with hand sanitizer before and after your events. Please maintain physical distancing of 2 Metres. If you are displaying symptoms of COVID-19, refer to HealthLink BC at 811
Contract Tracing
Attendee contact details will be obtained at the time of ticket purchase and then reverified the day of the event in person by Victoria Whisky Festival volunteers.

Contact Us