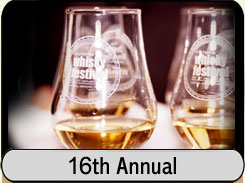 Ticket Sales
Out of town attendees:
Ticket sales will commence Friday, November 6th, 2020 at 10am Pacific Time; please telephone the Hotel Reservation line at 1-800-663-7550 to purchase their tickets in conjunction with a hotel room reservation.
In town attendees:
Ticket sales will commence Saturday, November 14th, 2020 at 9am at the Strath Ale, Wine & Spirit Merchants 919 Douglas Street, Victoria, BC. No orders will be accepted by telephone.
until the Victoria Whisky Festival
The 16th Annual Victoria Whisky Festival will be held on the
14th, 15th, 16th, and 17th of January 2021 at the Hotel Grand Pacific.
August 21st, 2020
The Victoria Whisky Festival 2021 is scheduled to run from January 14th through January 17th, 2021 at the Hotel Grand Pacific. Due to the CoVid-19 pandemic and the restrictions that have evolved over the last number of months the 2021 Festival has been reconfigured to ensure the health & safety of ticket holders, presenters, hotel staff and volunteers. The Festival will hold a limited number of Masterclasses & Grand Tastings per day and where required presenters will conduct their events remotely.
All events will take place in the Vancouver Island & Pender Island Ballrooms and tickets will be strictly limited to 35 attendees & 32 attendees per event respectively to ensure strict physical distancing. Both ballrooms will have their own dedicated entrances, exits & washrooms, event start & end times will be staggered.
Ticket will be sold at the Strath via appointment and from the Hotel Grand Pacific by telephone. As this is a very fluid situation please check our website for updates as we move through the remainder of 2020. The Festival will be enforcing all provincial health regulations.
Regards,
The Victoria Whisky Festival Team.

Contact Us