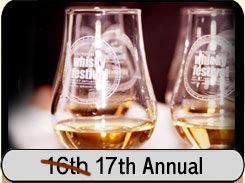 until the Victoria Whisky Festival
The 2023 Victoria Whisky Festival will be held on the
19th, 20th, 21st, and 22nd of January 2023 at the Hotel Grand Pacific.
August 15, 2022
Good News! Planning is now well underway for the 2023 Victoria Whisky Festival taking place on Thursday January 19th through Sunday January 22nd 2023 at the Hotel Grand Pacific on Victoria's beautiful Inner Harbour.
We are returning to the pre-Covid format of Grand Tastings, Masterclasses and VIP and Consumer tastings.
The 2023 Victoria Whisky Festival event program and ticket prices will be posted on the second or third week of October.
A date has not yet been finalized for ticket sales, but it will likely be the first weekend in November.
Keep checking this website for updates as we will be posting them as they become available.
Stay safe and healthy! We are excited to once again be putting on the Victoria Whisky Festival and really look forward to seeing you once again at the Festival in January.
The Victoria Whisky Festival Team
Lawrence
Frank
Iain
Al
Frederike
Contact Us